In the Coba Monkey Tour we visit the temples of one of the most impressive archaeological sites of the Maya. The city of Cobá, which in Maya means "Turbulent Water", is one of the largest ancient Mayan urban centers it is surrounded by rainforests and lakes. You can walk under the tall trees and observe exotic birds and other animals that live there; for the more adventurous, discover the amazing and tallest pyramid in the Mayan Peninsula Nohuch Mul, which means "large mound or construction" and as a reward get a breathtaking view of the tropical rain forest.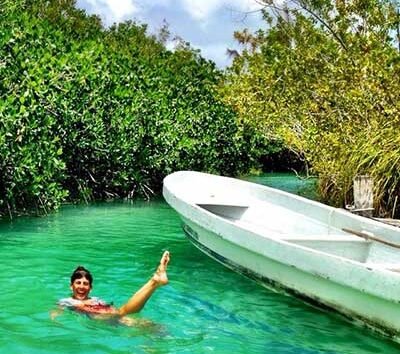 Minimum of 2 people. Duration. 5 Hours
Sian Kaan Lazy River tour is one of the most tranquil things you can experience in Tulum. First we visit the charming archaeological city port of Muyil about (45 min) then we take you on a boat over the turquoise waters of the Chunyaxche freshwater lagoon and look around the ancient Maya outpost "Xlapak," which means "The old wall" and is made of limestone and built around 1100 AD.